Dick Turpin's last ride on his Bonnie Black Bess
Reference Number:-
Sprake Number:-
Godden Number:-
st 156
STG149
15
---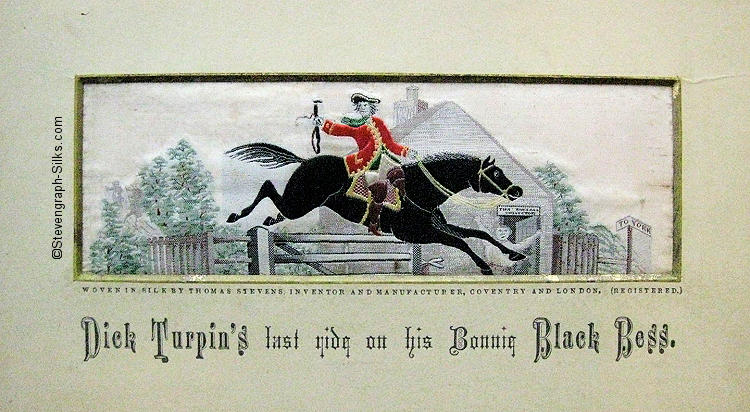 Words:

Woven on silk:-

Printed at bottom of card-mount:-
Woven in Silk by Thomas Stevens, Inventor and Manufacturer, Coventry and London. (Registered)

Dick Turpin's last ride on his Bonnie Black Bess.

Size:

Card-mount:

13.3 cm deep by 20.3 cm wide

silk:
6.3 cm high by 16.5 cm wide

Comments:

by Austin Sprake:

This is a later version than STG148

[st152 on this site]

and has no other printed title. Exists in various widths.

by Geoffrey Godden:
This is the post October 1879 title to the Stevengraph introduced at the York Exhibition (as "Dick Turpin's Ride to York").
The new title is found in the normal position below the picture - not above it as with the earlier versions - on card mounts of type B. The printed back-labels range from the scarce four-title variety to label 22 of c. 1881, but the title was then discontinued. The descriptive title "Turpin's Ride to York (The Toll-gate Leap)" appeared on the labels, although this wording was not used on the card-mounts.

Other comments:
Original design was registered on 28 May 1879
and the diamond registration mark can appear either printed on the back label or impressed on the front card-mount.
---
---
This page was created on 15 July 2001
New image added 10 March 2004, and replaced with improved version 22 October 2017 © Peter Daws
Web site address: www.stevengraph-silks.com