DICK TURPIN'S RIDE TO YORK,
ON HIS BONNIE BLACK BESS.
1739
(with signpost and 6 line poem)
Reference Number:-
Sprake Number:-
Godden Number:-
st 152
STG148
14b
---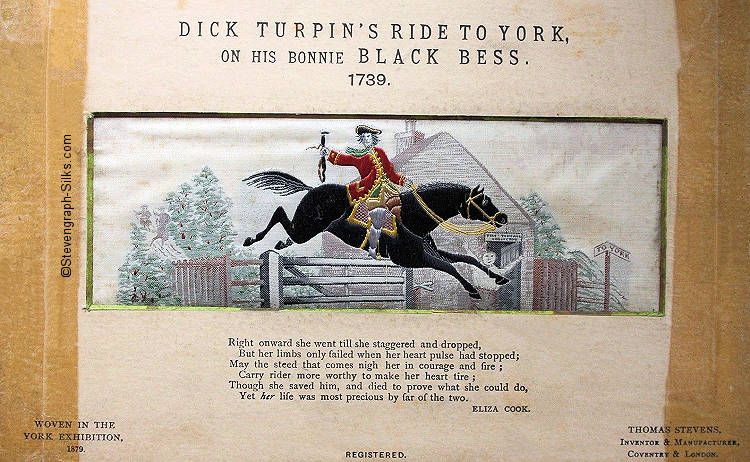 Words:

Woven on silk:-

Printed at top of card-mount:-
DICK TURPIN'S RIDE TO YORK,
ON HIS BONNIE BLACK BESS
1739

Printed at bottom of card-mount:-

Right onward she went till she staggered and dropped,
But her limbs only failed when her heart pulse had stopped ;
May the steed that comes nigh her in courage and fire ;
Carry rider more worthy to make her heart tire;
Though she saved him, and died to prove what she could do,
Yet her life was most precious by far of the two.
Eliza Cook.

WOVEN IN THE
YORK EXHIBITION,
1879

THOMAS STEVENS,
Inventor & Manufacturer
Coventry & London

Size:

Card-mount:

13.5cm deep by 20.5cm wide

silk:
5.0cm high by 15.5cm wide

Comments:

by Austin Sprake:

by Geoffrey Godden:
This long title (with or without the date 1739) was printed above the silk picture on the card-mount used on the early issues of this Stevengraph, which was the second of the first titles issued at the York Exhibition in 1879.
The basic design - Dick Turpin leaping over the toll-gate on his way to York - was registered on 28 May 1879 but was prepared before this date. The original in the official files does not have the signpost 'To York' near the right-hand edge of the picture. But this feature must have been quickly added, for examples without it are of extreme rarity and the omission is not in the Sprake-Darby list, although Mrs LeVan Baker had earlier illustrated an example as Figure 72 in her book. It is interesting to see that the bookmark incorporating this design is also without the signpost.
These rare early Turpin silks are mounted on a card which has the eight-line poem which can be seen printed below the picture. This first poem can also occur on card-mounts displaying the normal version of the silk picture, with the signpost 'To York' added near the right edge; but all cards bearing this poem are very rare and can have been issued only for a few weeks. [see st 148 on this site]
Subsequent silks of this subject are mounted on a different card, including the credit 'Woven in the York Exhibition, 1879', but with a different six-line poem by Eliza Cook (that is, the image of this page).
On the closure of the York Exhibition on 31 October 1879, the reference to York was deleted from the title, which thus took on more general interest [see st 154 on this site for an image of the 6 line poem without the York Exhibition reference]. A later title, DICK TURPIN'S LAST RIDE ON HIS BONNIE BLACK BESS, was issued without the poem [see st 156 on this site].


Other comments:
Original design was registered on 28 May 1879
and the diamond mark is printed on the back label rather than impressed on the front card-mounts.
---
---
This page was created on 15 July 2001
new image added 12 February 2006. Better quality image added 14 January 2018 © Peter Daws
Web site address: www.stevengraph-silks.com