Die Abfahrt
German title for Stevens'
Are You Ready?
German Title Reference Number:-
st 44-1
Stevens Normal Titled Reference Number:-
st 44
---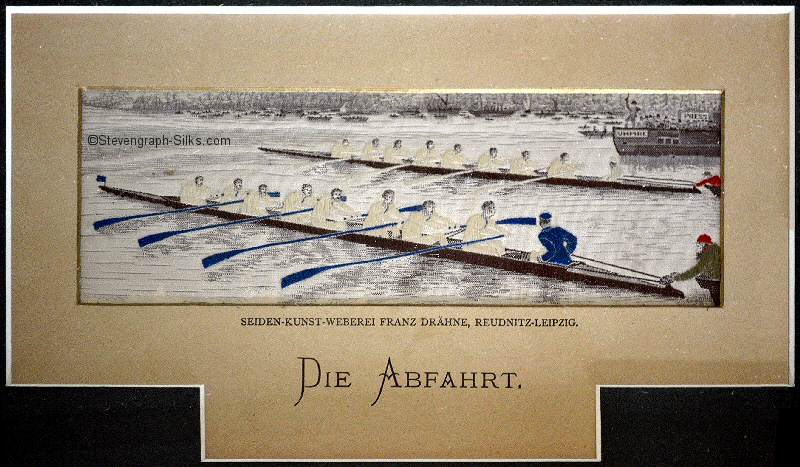 the image of this silk picture was kindly donated by John Hartwig, USA
Words:

Woven on silk:-

Printed at bottom of card-mount:-

SEIDEN-KUNST-WEBEREI FRANZ DRÄHNE, REUDNITZ-LEIPZIG.

DIE ABFAHRT.

Size:

Card-mount:

cm deep by cm wide

silk:
cm high by cm wide

Comments:

The colours have faded badly in the image above, and the dark blue Oxford University boat is in the foreground, and the lighter blue Cambridge University boat is in the background.

A rough translation of the German title would be THE DEPARTURE.

FRANZ DRÄHNE would appear to have been an agent of Stevens in Germany, and many of these German titled silk pictures have Drähne's backing label. This label lists some 22 recognisable Stevens scenic pictures.

The title above was recorded in Franz Drähne's backing label, and this particular picture has the Drähne Back Label - type 1 attached.
---
---