This bookmark was recorded in the CASH'S 2000 Sales catalogue, with Reference Number 382. It was one of their Flower Series.
The full list of this series being:
As can be seen in the image above, this card was issued with the woven bookmark attached, and a white envelope for posting.
The reverse of this card has advertising for CASH'S, thereby confirming it is of their manufacture. It also includes a list of available titles, as has been seen on other card backs, although unfortunately, not the available flower titles.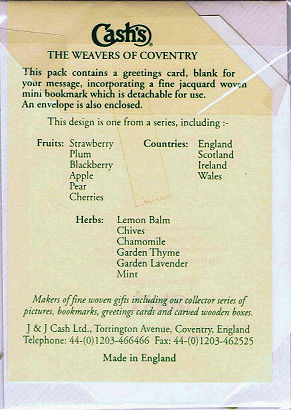 reverse printing of this card's wrapper