DUBLIN EXHIBITION, 1907
(no fountain)
Reference Number:-
Godden Number:-
Sprake Number:-
Radley Number:-
gc 236
932
No Postcards listed by Sprake
listed
---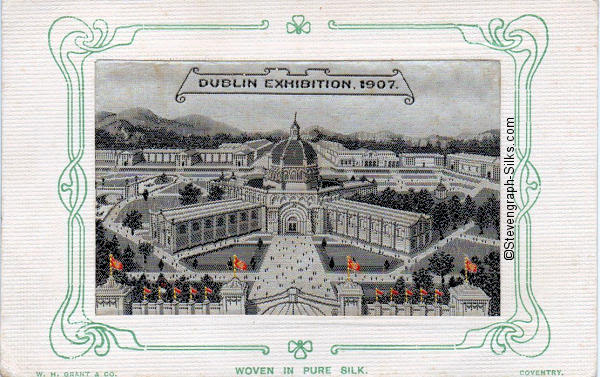 Words:

Woven on Silk:-

DUBLIN EXHIBITION, 1907.


Printed at bottom of card:-

WOVEN IN PURE SILK

W. H. GRANT & Co.

COVENTRY

Size:

card:

13.9 cm wide by 9.1 cm deep

silk:
9.5 cm wide by 6.0 cm deep

Comments:

The main pathway from the entrance gates to the hall are wide and open. There is a variant to this silk

[gc232 on this site]

in which there is a fountain and circular walkway instead of this wide pathway.

Also note that on some of these silks the flags at the front are woven in blue and yellow silk, instead of the red and white shown above.
---
---