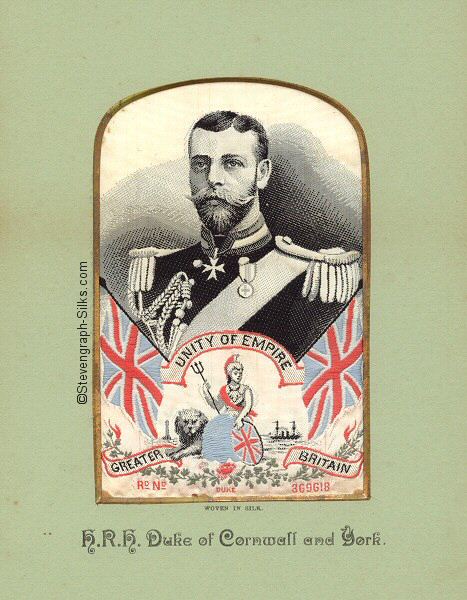 ---
H.R.H. Duke of Cornwall and YORK
---
Reference Number:-
Godden Number:-
Sprake Number:-
go 320
965
Sprake did not record any Grants
Words:

Woven on Silk:-

ribbon with words:-
UNITY OF EMPIRE

image of Britannia

ribbons with words:-
GREATER BRITAIN

Rd. No. DUKE 369618

Printed at bottom of card:-

WOVEN IN SILK.

H.R.H. Duke of Cornwall and York.

Size:

Card-mount:

24.1cm deep by 19.0cm wide

silk:
13.9cm high by 8.8cm wide

Comments:

by Geoffrey Godden:
A portrait of the Duke of York (later King George V) with the registration number 369618 near the bottom edge.

Other comments:
This design was registered on 4 February 1901, with number 369618.

This silk is a pair to go316 - H.R.H. Duchess of Cornwall & York (later Queen Mary).

This same silk appears in postcard form, as gc44 on this site, and again when the Duke became Prince of Wales, as gc56 on this site.
---
---