by Geoffrey Godden:
This Grant silk was one of the 'Empire Makers' series of 1900-01, and its general title is printed near the top of the card mount. The portrait is very similar to the rare first version of the Stevens portrait with the long face [so436 on this site]. An outline of Roberts' career is also given on this same page.
This portrait also occurs in postcard form with the woven inscription 'For Queen & Country' [see gc168 on this site].
Other comments:
This silk is the Grant number 113.
The 'EMPIRE MAKERS' silks comprise:
Field Marshal Lord Roberts, V.C. [image above]

General Sir Redvers Buller, V.C. [go116 on this site]

Lord Kitchener of Khartoum. [go240 on this site]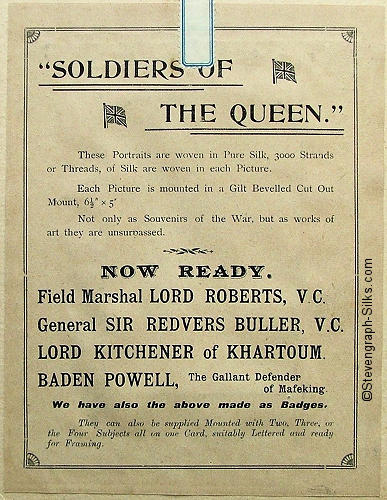 rear printed label for this Grant silk portrait.
History of Roberts:
Frederick Sleigh Roberts was born in India in 1832. He had a distinguished military career, serving in India, Afghanistan and South Africa.
In 1899 when the Boer War erupted in South Africa, Field Marshal Lord Roberts, aged 67, was sent out to the Supreme Command with Major General Lord Kitchener as his Chief of Staff.
The seige of Kimberly was ended when Roberts' cavalry division dashed through the Boer lines just weeks after Roberts arrived in Cape Town.
Upon his return to England, Roberts received an Earldom for his services in South Africa.