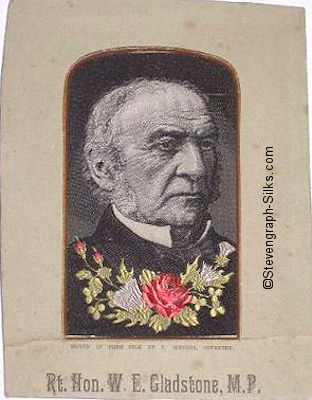 ---
Rt. Hon. W.E. Gladstone, M.P.
(facing half right, with flowers)
(with smaller head)
---
Reference Number:-
Sprake Number:-
Godden Number:-
so 300
STG65
114c
Words:

Woven on silk:-

Printed at bottom of card-mount:-
WOVEN IN PURE SILK BY T. STEVENS, COVENTRY.
Rt. Hon. W. E. Gladstone, M.P.

Size:

Card-mount:

cm deep by cm wide

silk:
cm deep by cm wide

Comments:

by Sprake:

by Godden:
A similar portrait silk to so296 with flowers, but rare, with smaller head.

Other comments:
So as to demonstrate that the head of this silk is smaller than normal, below is an image of the silk recorded above (shown on the left) presented next to the equivalent so296 normal image (shown on the right). The bottom edges of the silks are aligned, as too are the lower edges of the chin. It can be seen clearly that the head on the left (that of so300 above) is smaller than that on the right (that of so296)

for comparison: image on the left is the one above (so300); whilst the one on the right is the equivalent normal image of so296.
---
---