GOD SPEED THE PLOUGH
LE LABOUREUR - GOTT SEGNE DEN FLEISSIGEN LANDMANN
Reference Number:-
Sprake Number:-
Godden Number:-
st 658
STG168a
29a
---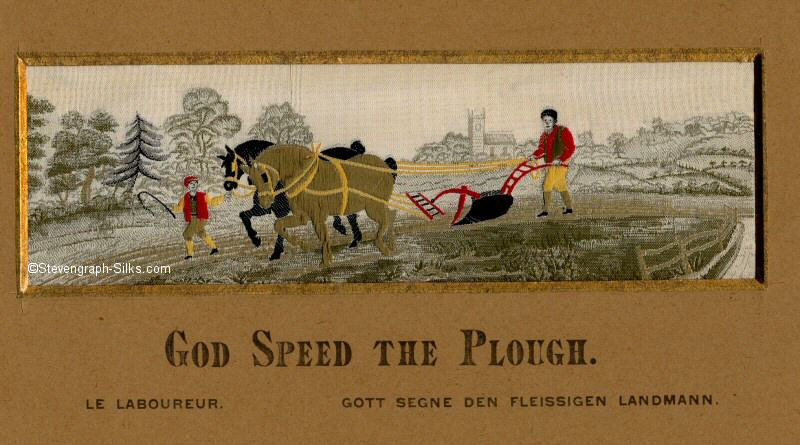 the image of this silk picture kindly donated by John Hartwig, USA
Words:

Woven on silk:-

Printed at bottom of card-mount:-

GOD SPEED THE PLOUGH.
LE LABOUREUR.
GOTT SEGNE DEN FLEISSIGEN LANDMANN.

Size:

Card-mount:

cm deep by cm wide

silk:
cm high by cm wide

Comments:

by Austin Sprake:


by Geoffrey Godden:


Other comments:
Godden mentions these pictures with an English, French and German title, but does not catalogue them.

The image above is of the silk without the normal birds flying near the church tower.
---
---
This page was created on 17 December 2003
new image added 24 April 2012 © Peter Daws
Web site address: www.stevengraph-silks.com