by Austin Sprake:
Black and white picture of the old Tudor building in Birmingham.
by Geoffrey Godden:
This small-size landscape silk (approximately 6 1/4inches by 3 3/4inches) shows the Old Crown House, Birmingham, in the traditional half-timbered style. The title is woven in the picture near the bottom right-hand corner and is printed on the card-mount. The title was not included on any standard back-label but examples of this subject are normally affixed to pre-1888 type B card-mounts with a story-label on the back.
This subject was certainly issued by October 1886, for I have a unique presentation copy dated, both on the front of the card-mount and on the label, 24 September 1886. It was sent from Birmingham at that date, and it would seem likely that these silks were sold in Birmingham - perhaps only at the 'Ye Old Crown House'. This would explain why the title is not listed on the standard back-labels.
Other comments:
Usual story label attached to the back of this silk: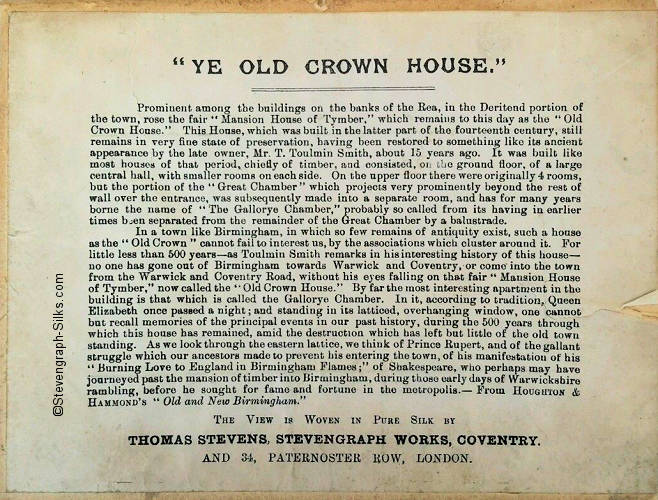 Usual story back label
There is a very rare version of this silk which has the curb stones going round a corner and along the left hand side of the building. This is listed as st644 on this site.