Ye Lady Godiva
(with poem on card mount)
Reference Number:-
Sprake Number:-
Godden Number:-
st 620
not recorded
not recorded
---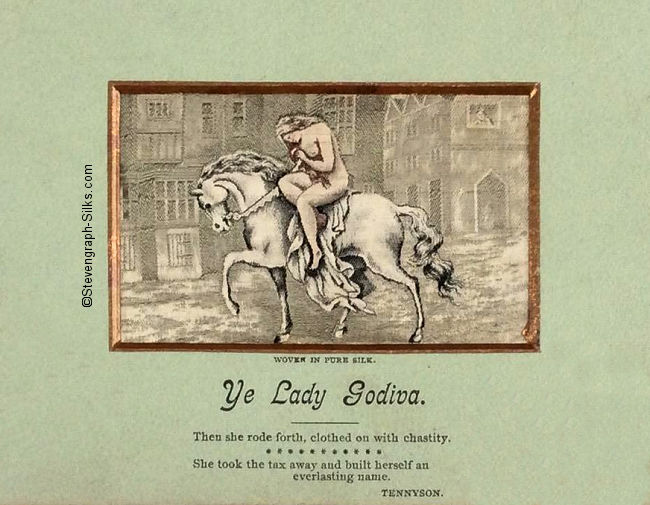 Ye Lady Godiva on horseback
Words:

Woven on silk:-




Printed at bottom of card-mount:-

WOVEN IN PURE SILK.


Ye Lady Godiva

Then she rode forth, clothed on with chastity.
* * * * * * * * * * *
She took the tax away and built herself an

everlasting name.
TENNYSON.

Size:

Card-mount:

cm deep by cm wide

silk:
cm high by cm wide

Comments:

The silk design is identical to Ye Ladye Godiva [

st628 on this site

], except on this mounted the title has been updated with the word "Lady", rather than the

Olde Worlde

"Ladye" version.
---
---
This page was created on 26 February 2006
and new image added 7 June 2015, and replaced 20 October 2017 © Peter Daws
Web site address: www.stevengraph-silks.com