THE WATER JUMP
Reference Number:-
Sprake Number:-
Godden Number:-
st 600
STG158
67
---
{normal version showing seven horses jumping over a fence, with the water trap the other side}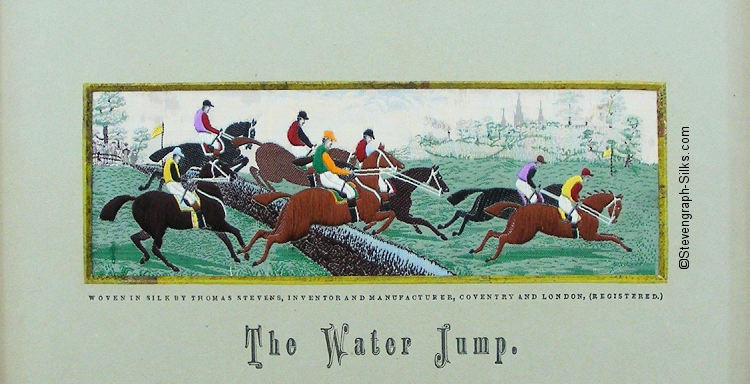 {same design, but with green silk missing from grass and one jockey's coat}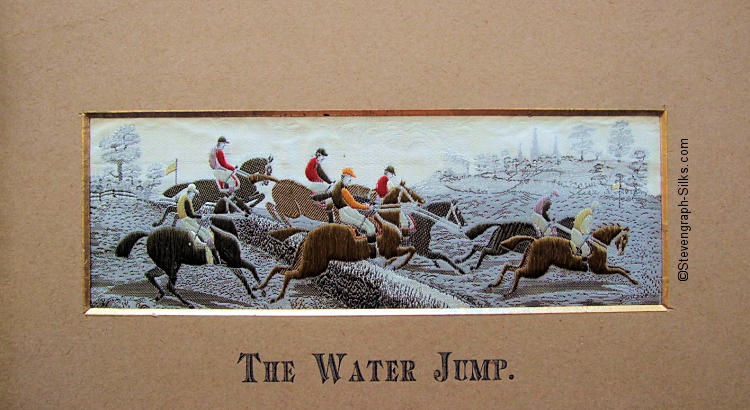 Words:

Woven on silk:-

Printed at bottom of card-mount:-
WOVEN IN SILK BY THOMAS STEVENS, INVENTOR AND MANUFACTURER, COVENTRY AND LONDON (REGISTERED).

THE WATER JUMP.

Size:

Card-mount:

13.3 cm deep by 20.3 cm wide

silk:
5.1 cm high by 15.2 cm wide

Comments:

by Austin Sprake:

A steeplechase scene with the spires of Coventry in the distance.

by Geoffrey Godden:
This landscape scene depicts a steeplechase with seven horses in full gallop. The 'water jump', in fact, has the appearance of a hurdle or hedge. The title was first printed on label 22 of c. 1881 and was continued into the twentieth century.
Specimens may be found on type B, C, E or F card-mounts; but in general, this is one of the rarer racing picture.

Other comments:
As can be seen from the two images above, the normal silk has the riders in multi-coloured coats, and rich green grass. There is however an unusual version were the green silk has been replaced with black, changing the appearance of the grass and one jockey's coat.
---
---
This page was created on 28 July 2001
new image added 12 February 2006, and replaced 23 November 2014.
Green grass version replaced 5 January 2018, and new image of black grass version added 5 January 2018 © Peter Daws
Web site address: www.stevengraph-silks.com