The Old Tyne Bridge
Reference Number:-
Sprake Number:-
Godden Number:-
st 444
STG144
47
---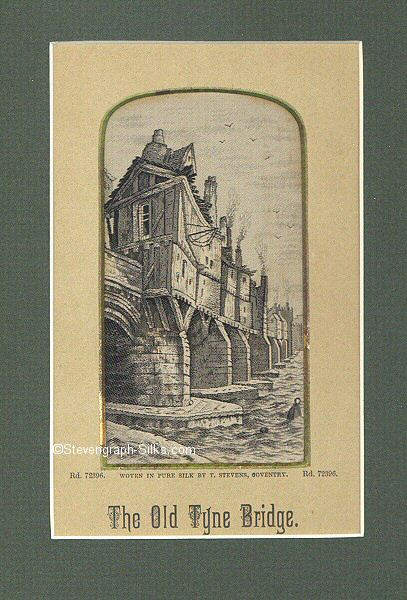 the image of this silk picture was kindly donated by John Hartwig, USA
Words:

Woven on silk:-

Printed at bottom of card-mount:-

Rd.72396

WOVEN IN PURE SILK BY T. STEVENS, COVENTRY

Rd.72396


The Old Tyne Bridge.

Size:

Card-mount:

cm deep by cm wide

silk:
cm high by cm wide

Comments:

by Austin Sprake:

View of the early bridge over the Tyne at Newcastle.

by Geoffrey Godden:
This small upright view was registered on 22 April 1887, and the official registration number 72396 is printed on the type D card-mount on each side of the credit.
The title does not appear printed on the standard back-labels and it would appear that this is one of the rare subjects made especially for local rather than national sale. It was most probably issued especially for the 1887 Newcastle-on-Tyne Exhibition, where Thomas Stevens had a loom producing his silks. A silk-woven view of the exhibition site (st520) was produced, and this and the view of the local bridge were probably sold to the exhibition visitors.
W. H. Grant also depicted the Old Tyne Bridge on his silks woven at the 1887 Newcastle Exhibition.

Other comments:
This silk was registered on 22 April 1887, with Registered Number 72396.
---
---
This page was created on 21 December 2003
new colour image added 9 January 2013 © Peter Daws
Web site address: www.stevengraph-silks.com