Niagara
Reference Number:-
Sprake Number:-
Godden Number:-
st 440
STG134
45
---
{colour image with title only woven on the silk}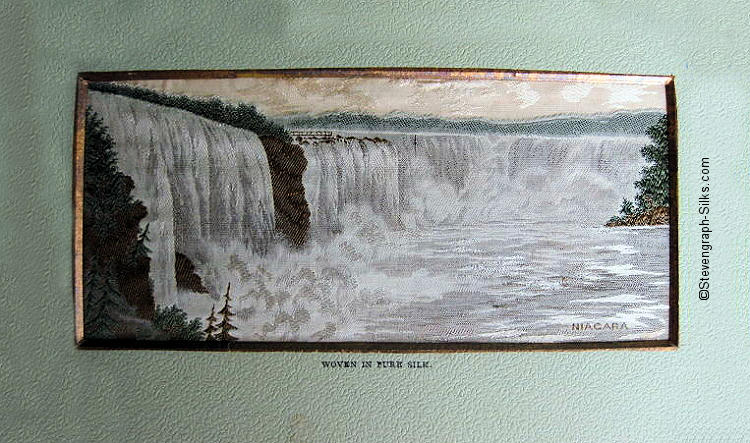 {black and white image with title and registration number woven on the silk}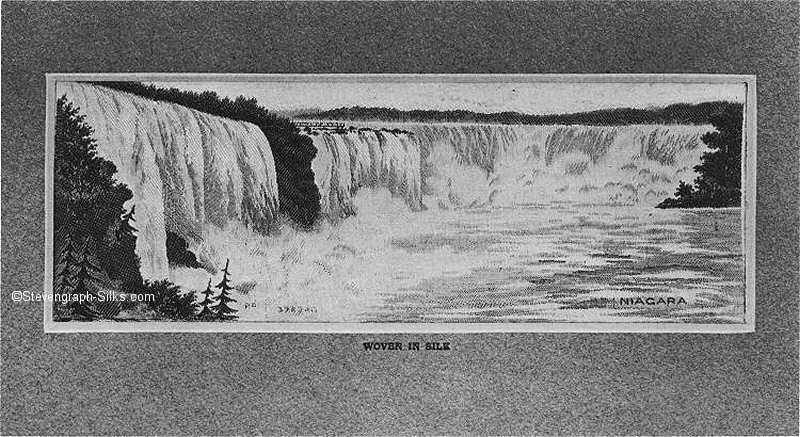 Words:

Woven on silk:-

Printed at bottom of card-mount:-

WOVEN IN SILK

Size:

Card-mount:

12.9cm high by 21.0cm wide

silk:
6.0cm deep by 13.5cm wide

Comments:

by Austin Sprake:

Superb colourful view of the famous falls.

by Geoffrey Godden:
This imposing landscape view shows the famous Niagara Falls. The title is woven into the picture near the bottom right-hand corner of the silk. This is a rather late issue, the registered number 376240 being found, but rarely, stamped on the reverse of the card-mount, indicating the date of registration 1 July 1901. The title was first included on label 31+39 and examples are normally affixed to the untitled card-mount E2

Other comments:
Godden mentions the registration number being printed on the card-mount. It is sometimes woven into the silk too, toward the left hand side, as RD: 376240, giving a date of 1st July 1901.
---
---
This page was created on 21 December 2003
Colour image added 15 March 2004, and replaced with improved version 5 January 2018 © Peter Daws
Web site address: www.stevengraph-silks.com