THE LADY GODIVA PROCESSION
Reference Number:-
Sprake Number:-
Godden Number:-
st 376
STG150
37
---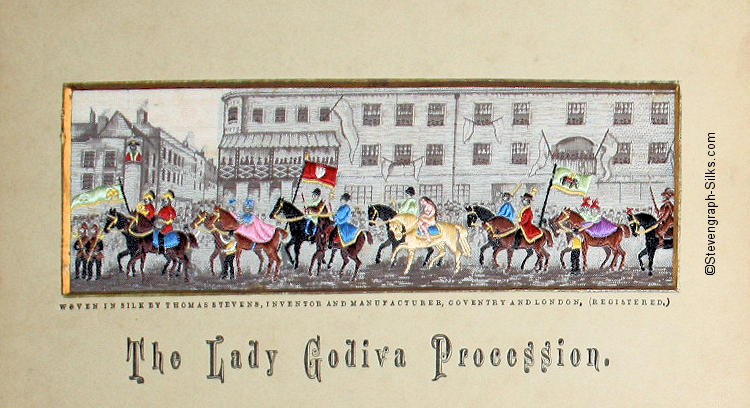 the image of this silk picture was kindly donated by Carine Dierickx, Belgium
Words:

Woven on silk:-

Printed at bottom of card mount:-
WOVEN IN SILK BY THOMAS STEVENS, INVENTOR AND MANUFACTURER, COVENTRY AND LONDON, (REGISTERED.)

The Lady Godiva Procession.

Size:

Card-mount:

cm high by cm wide

silk:
5.1cm high by 14.9cm wide

Comments:

by Sprake:

Variations in width.

by Geoffrey Godden:
This is a charming landscape view of Lady Godiva on horseback in the middle of a colourful procession proceeding through the streets of Coventry, with Peeping Tom at an upstairs window to the left of the picture.
It was registered on 5 March 1880, and the title was first included on label 12 of that period. The issues were affixed to type B card-mounts, but the subject proved a very popular one and was continued into the twentieth century - so that THE LADY GODIVA PROCESSION can also be found on card-mounts of type C and E.
The early issues of the 1880s normally have a standard back-label listing twelve or more titles, but the later examples - those with type C or E card-mounts - have a story-label as reproduced on [st380, st384 and st388 on this site]. It will be seen that this story-label was reset, and was reset again in a different type for the post-1900 examples with type E card-mounts. In these late examples, the initial T is in Old English type [st 388 on this site].
A cut version of this silk was used for postcards.

Other comments:
This design was registered on 5th March 1880.

Grant has a very similar silk, the difference being that in the Stevens picture the procession continues across the full width of the silk. In the Grant version, the procession turns right into the side street.
---
---
This page was created on 9 January 2002
a new image was added 6 December 2005, and replaced 17 February 2013. Improved image added 6 January 2018 © Peter Daws
Web site address: www.stevengraph-silks.com