by Austin Sprake:
Picture in black and white with blue sky, green trees and union jack in colour. Usually no title. Often in calendar form.
by Geoffrey Godden:
A landscape view of the British Houses of Parliament, with the tower of Big Ben as seen from the far side of the River Thames. This is a subject issued in the twentieth century, like other views such as the TOWER OF LONDON [st588 on this site], and it is normally mounted on an untitled card. It was mainly issued as part of a calendar.
The design was reputedly copied from a bank-note of this period which featured the Houses of Parliament.
It should be noted that W. H. Grant issued a similar silk-woven view.
Other comments:
The Stevengraph silk above was also used in the 1930 calendar
Of interest, I have seen another picture of Stevens HOUSE OF PARLIAMENT on which is attached this very unique label: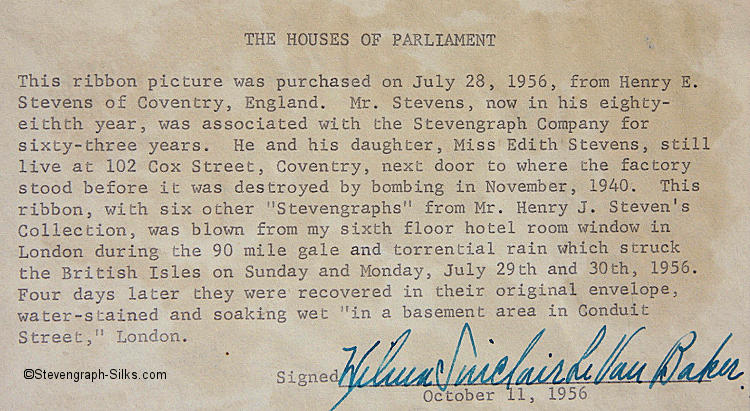 this label was attached to another picture of Stevens Houses of Parliament, not the one shown above,
and is signed by Wilma Sinclair Le Van Baker, on 11 October 1956.