GOD SPEED THE PLOUGH
(with flock of birds)
Reference Number:-
Sprake Number:-
Godden Number:-
st 252
STG168
29
---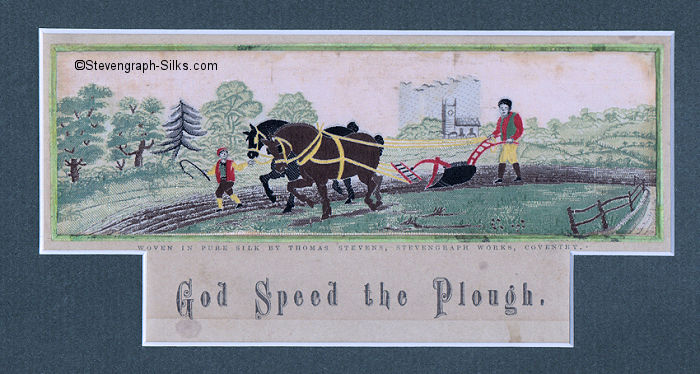 the image of this silk picture was kindly donated by John Hartwig, USA
Words:

Woven on silk:-

Printed at bottom of card-mount:-
WOVEN IN PURE SILK BY THOMAS STEVENS, STEVENGRAPH WORKS, COVENTRY

God Speed the Plough.

Size:

Card-mount:

13.6cm deep by 20.5cm wide

silk:
4.8cm high by 14.9cm wide

Comments:

by Austin Sprake:

A horse-drawn ploughing scene with a church in the background and a flock of birds above the church.

by Geoffrey Godden:
A landscape view of a man guiding a small old-fashioned plough drawn by two horses which are led by a boy with a whip. A church is shown, in the centre of the horizon, with five birds flying above it. This design was also incorporated in a book-marker 'Wishing you Peace and Plenty' [sb2512 on this web site].
This subject is first recorded on label 20 of about 1880, and examples are normally found on type B card-mounts.

Other comments:
In the image above, there are 6 birds clearly seen, with 8 birds in total (confirmed on very close inspection of other images). It is not yet clear whether there are two versions of this silk - one with the 5 birds recorded by Godden, and the one above with 8 birds.
---
---
This page was created on 26 February 2006
new image added 30 October 2014 © Peter Daws
Web site address: www.stevengraph-silks.com