Title: The First Over
Silk: The First Innings
Reference Number:-
Sprake Number:-
Godden Number:-
st 201
not recorded
not recorded
---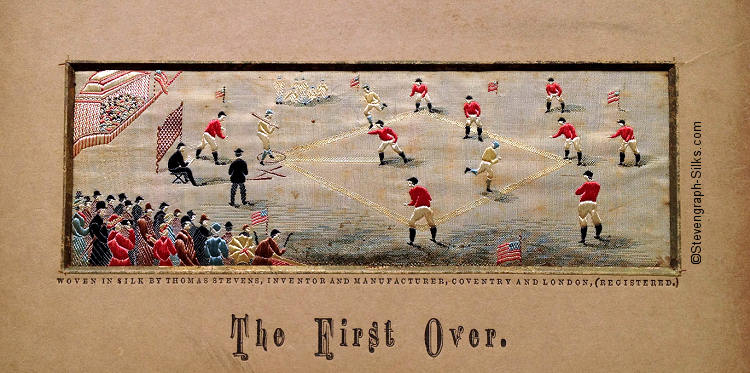 Words:

Woven on silk:-

Printed at bottom of card-mount:-

WOVEN IN SILK BY THOMAS STEVENS, INVENTOR AND MANUFACTURER, COVENTRY AND LONDON, (REGISTERED.)

The First Over.

Size:

Card-mount:

cm deep by cm wide

silk:
cm high by cm wide

Comments:

by Austin Sprake:

Sprake does not record this error silk.

by Geoffrey Godden:
Godden does not record this error silk.

Other comments:
THIS IS AN ERROR CARD.
The card mount has the printed title " THE FIRST OVER ", being a cricket game, whilst the actual silk is of a baseball game, for which the Stevens title is " THE FIRST INNINGS ".
---
---