Der Abgang
German title for Stevens'
The Start
German Title Reference Number:-
st 556-1
Stevens Normal Titled Reference Number:-
st 556
---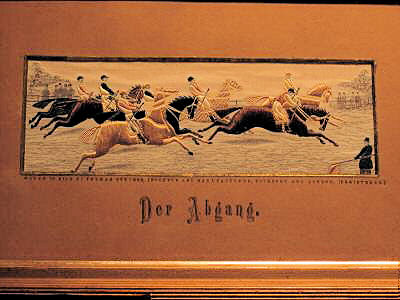 Words:

Woven on silk:-

Printed at bottom of card-mount:-

Woven in Silk by Thomas Stevens, Inventor and Manufacturer, Coventry and London. (Registered)

Der Abgang.

Size:

Card-mount:

14.0cm deep by 22.0cm wide

silk:
5.0cm high by 15.0cm wide

Comments:

This title literally translates as The outgoing.

The title above does not appear in the Franz Drähne printed backing label

The picture above has a standard Stevens picture front card mount, so was issued by Stevens themselves.
This same silk and title has been seen with the Diamond Registration mark impressed on the top right of the card mount, and with a rear advertising label with 16 titles, dated by Godden to circa June/July 1880.
It is interesting that as Stevens started making his pictures in only May 1879, a year later he was selling them into Germany, with german titles.
---
---