There are two images above.
The version on the left is an earlier issue, recorded in both the CASH'S 1995 and 2000 Sales Catalogues with an issue number of 228. The Bookmark Society records this version with Number of 113. Note the different aspect of the Badger.
The version on the right is a more recent issue, from the J. & J. CASH NATURE series. From the Cash's website, it is known this recent design is titled:
COUNTRYSIDE
, with the Collection Number of 1037.
This bookmark was available for sale in October 2018 from the
J. & J. Cash website
, mounted on a white card, with quality ivory envelope, at £9.95.
The bookmark on the left is signed on the reverse top turn-over:
"MADE BY Cash's OF COVENTRY"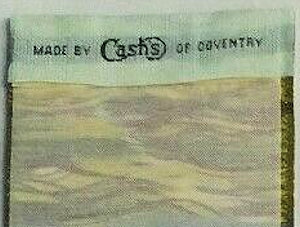 logo woven on reverse top turn over of this bookmark