This bookmark was recorded in the CASH'S 1995 Sales Catalogue with an issue number of 114. It was part of the CASH'S ROMANTIC Series, with a title of FAIREST FLOWER.
It is believed this bookmark was first issued in 1991.
Woven on the rear top turnover is the CASH'S name:
MADE BY Cash's OF COVENTRY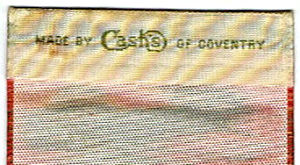 close up of reverse pointed end of the bookmark on the left
CASH'S made another version of this bookmark, recorded as cash-bm0307, with three honeysuckle flowers instead of the two on the version above. The bookmark above however is of a standard length, and shorter than the cash-bm0307 version.