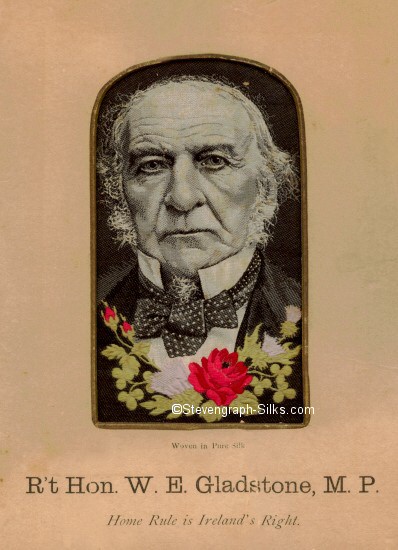 ---
R't Hon. W.E. Gladstone, M.P.
Home Rule is Ireland's Right
---
Reference Number:-
Sprake Number:-
Godden Number:-
so 290
not recorded
not recorded
Words:

Woven on silk:-

Printed at bottom of card-mount:-
WOVEN IN PURE SILK
R't Hon. W. E. Gladstone, M.P.
Home Rule is Ireland's Right.

Size:

Card-mount:

18.0cm deep by 13.0cm wide

silk:
10.3cm deep by 5.9cm wide

Comments:

Neither Sprake nor Godden record this title.

The silk itself is the normal image of Gladstone full face, and flowers across the jacket.

The card mount however is typical of silks I have seen which were specifically for the continental market. There is also no back label. Instead the back is covered with a plain paper, on which is printed:-

JOSEPH BLACK
MANUFACTURER,
Tioga Street and Trenton Avenue.
PHILADELPHIA.

From a paper envelope used to post the original pictures and portraits, it is confirmed the flowers are Roses, Shamrock and Thistles.
---
---