by Austin Sprake:
by Geoffrey Godden:
This portrait-size silk is taken from an 1899 painting by R. Caton Woodville.
The picture shows a full-length portrait of a British soldier in the new khaki battledress. His head is bandaged, and he stands holding his rifle with bayonet fixed.
The subject was first listed on label 31+32 of 1900, which records the fact that the picture was reproduced by permission of the London Daily Mail, and that part of the proceeds of sales would go to the Daily Mail Fund.
The price quoted on this label is 6d or 'Post free 7d'. By June 1900, the fund had exceeded £100,000 - though only a small proportion of this could have come from the sales of the Stevengraph.
This patriotic gesture was later copied on the postage stamps of some countries, when a premium was reserved to the Red Cross or similar organisations.
The GENTLEMAN IN KHARKI silk is rarely found today, but the subject also exists in postcard form.
Other comments:
image of back label:-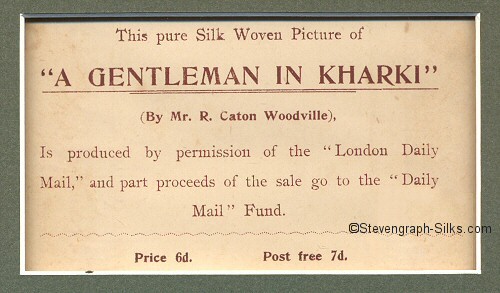 the image of this portrait back label kindly
donated by John Hartwig, USA
This silk is also known without the R. Caton Woodville signature and date.