by Sprake:
"Mrs Cleveland (Queen of 60 millions of free people)."
With a spray of violets below the portrait. The back label comprises poems entitled "America" and "The Star Spangled Banner".
by Godden:
Mrs Cleveland (née Frances Folsom) married President Cleveland in 1886. Her husband was President of the United States of America from 1885 to 1889 and again from 1893 to March 1897 (see so200 on this site). Both the President and the First Lady were extremely popular.
The Stevens silk portrait of MRS. CLEVELAND. QUEEN OF 60 MILLIONS OF FREE PEOPLE is an attractive one, showing the President's wife turning to the left. The title first appeared on label 23+26+2 of 1887 and was included up to label 31+32 of 1900 - that is, for a longer period than her husband's portrait.
Other comments:
The reverse of this silk has a printed label divided into two parts. On the left side is printed the poem "America". On the right side is the full text of "Star Spangled Banner".
Below this is a list of "The New Series of Silk Woven Portraits" available from the T. Stevens factory.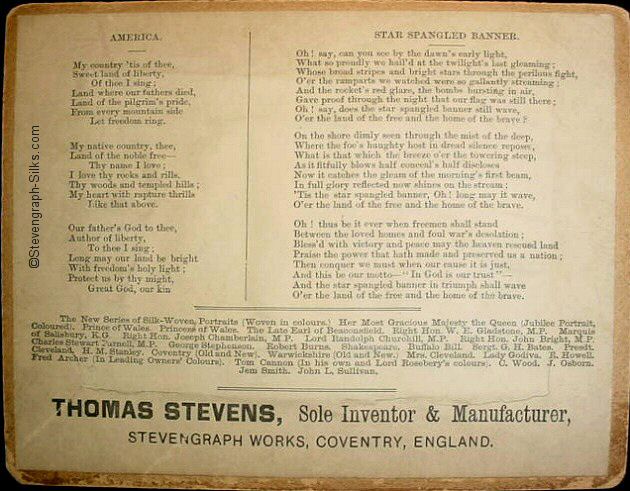 This silk is also known with the printed wording:-


WOVEN IN PURE SILK
AT WORLD'S COLUMBIAN EXPOSITION
CHICAGO 1893