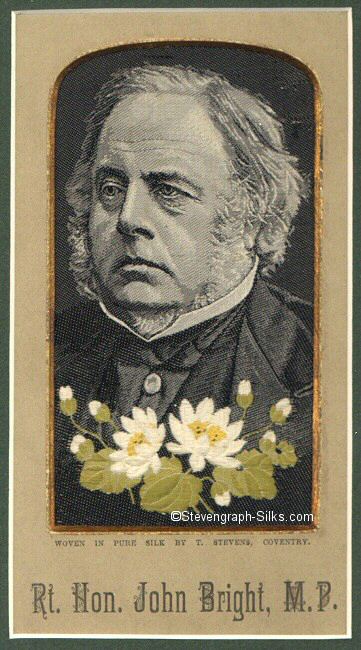 the image of this silk portrait was kindly
donated by John Hartwig, USA
---
Rt. Hon. John Bright, M.P.
(with flowers across jacket)
---
Reference Number:-
Sprake Number:-
Godden Number:-
so 120
STG55
91a
Words:

Woven on silk:-

Printed at bottom of card-mount:-
WOVEN IN PURE SILK BY T. STEVENS, COVENTRY

Rt. Hon. John Bright, M.P.

Size:

Card-mount:

cm deep by cm wide

silk:
cm deep by cm wide

Comments:

by Sprake:

by Godden:
John Bright was born on 16 November 1811, the son of a Yorkshire miller. He agitated against the Corn Laws in 1842 and became Member of Parliament for Durham in 1843, then for Manchester, and later for Birmingham. Bright was a leading politician of the Victorian era, with volumes of his speeches published in 1868 and in 1879. He died on 27 March 1889.

The Stevens silk portraits show John Bright facing slightly left. At least four versions are recorded. The title was first listed on label 21+9+2 early in 1887 and was included in an advertisement of May 1887. But it does not occur after label 23+34b of the 1888-9 period.

This is the second version, and is identical to so116, except that this version (above) has a spray of flowers woven across the jacket.

Other comments:
From a paper envelope used to post the original pictures and portraits, it is confirmed the flowers are Water Lilies.
---
---
This page was created on 13 April 2004
new image added 6 September 2013 © Peter Daws
Web site address: www.stevengraph-silks.com