There is a label attached to the reverse of this picture, stating that the tapestry was woven in Yorkshire, without giving a name.
The Wilmas Galleries, Coventry name is also printed, and in the absence of any other information, the picture is recorded under their name.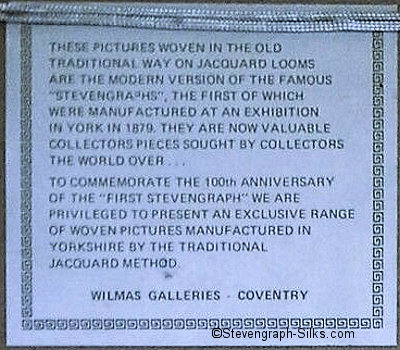 printed back label, with Wilmas name
It is perhaps worth noting that the National Railway Museum, York commissioned several tapestries from H. H. CALMON & CO. LTD, Keighley, Yorkshire. There appears to be a great deal of similarity between these CALMON tapestries and the one above, coupled with the statement on the back label that these pictures were woven in Yorkshire, gives the strong impression the picture above was also woven by CALMON.
It seems probable that Calmon made woven pictures for a number of different outlets.