by Godden:
This silk is not listed by Godden
Other comments:
Slingsby tended to stamp their name on the back of the silks, using ink. This was in the form of a large circle, with the Diamond Registration mark inside. This sash though has a silk panel attached to the sash, with their name clearly woven on the front.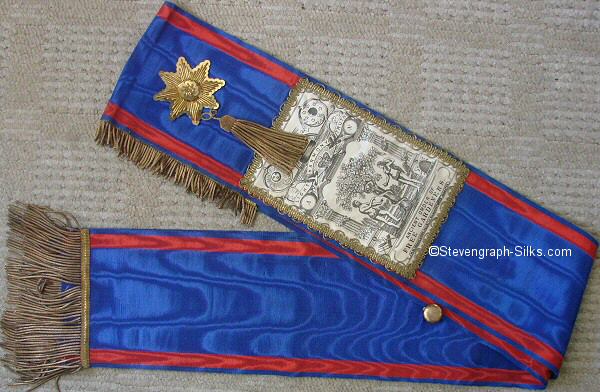 Extract courtesy of Grand Lodge of British Columbia and Yukon A.F. & A.M. (http://freemasonry.bcy.ca/texts/gardeners.html) :-
From Ms. rituals it would appear that the lodge officers were the Master, two Wardens, Chaplain and Inside and Outside Tylers. There were three degrees: Apprentice (based on Adam in the Garden of Eden), Journeyman (based on Noah's Ark) and Master Gardener (based on King Solomon).

The letters A. N. S. and 0 which refer to the three Grand Master Gardeners (Adam, Noah and Solomon) and the Olive sign.
Whilst the Order started in Scotland, spreading to England much later, the sash above is believed to be that of the British Order of Ancient Free Gardeners.