Golly!! Don't I like chicken
Reference Number:-
Godden Number:-
Sprake Number:-
Radley Number:-
gc 657
944
No Postcards listed by Sprake
listed
---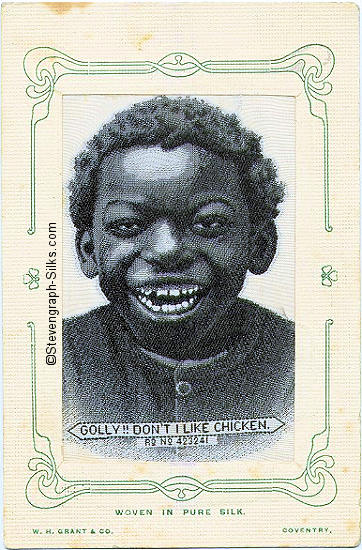 Words:

Woven on Silk:-

GOLLY!! DON'T I LIKE CHICKEN
RD. NO. 423241

Printed at bottom of card:-

WOVEN IN PURE SILK

W. H. GRANT & Co.

COVENTRY

Size:

card:

cm long by cm deep

silk:
cm long by cm deep

Comments:

It is recognised that the woven silk image contained within the postcard mount is now considered inappropriate.

However, as this page represents a record of the postcards originally made by Grant in the early 1900's, when at that time there was nothing offensive about the image, it is included here for completeness.

This designed was registered on 14 December 1903 (No. 423241)

This designed was recorded on the Grant price list and catalogue as number 132.
---
---