KENILWORTH CASTLE
(no registration number)
Reference Number:-
Godden Number:-
Sprake Number:-
Radley Number:-
gc 536
not recorded
No Postcards listed by Sprake
Not listed
---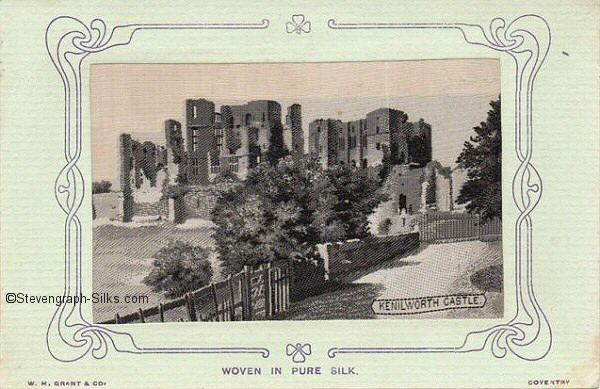 Words:

Woven on Silk:-

KENILWORTH CASTLE.


Printed at bottom of card:-

WOVEN IN PURE SILK

W. H. GRANT & Co.

COVENTRY

Size:

card:

14.0cm wide by 9.3cm deep

silk:
9.5cm wide by 6.0cm deep

Comments:

The design of this postcard was registered on 21 April 1904 (number 430945).

It would seem however that the card above pre-dates this registration date, as it was woven without the customery registration number below the "Kenilworth Castle" title. The card above is post-marked 1 June 1904.

The usual version with the woven registration number is listed as

gc538 on this site.
---
---