High Level Bridge
Newcastle-on-Tyne
Reference Number:-
Godden Number:-
Sprake Number:-
Radley Number:-
gc 520
956
No Postcards listed by Sprake
listed
---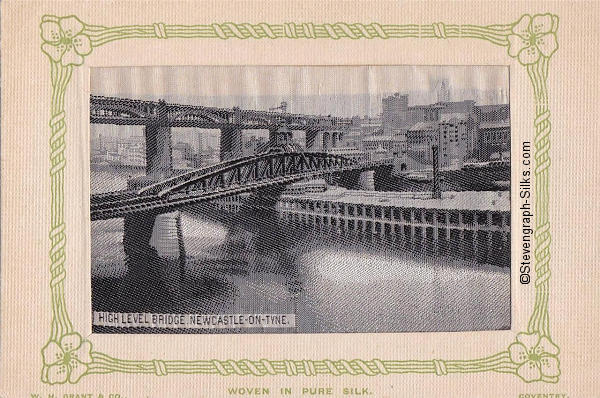 Words:

Woven on Silk:-

HIGH LEVEL BRIDGE, NEWCASTLE-ON-TYNE

Printed at bottom of card:-

WOVEN IN PURE SILK

W. H. GRANT & Co.

COVENTRY

Size:

card:

cm long by cm deep

silk:
cm long by cm deep

Comments:

This silk is recorded on the Grant price list and catalogue as number 127.

This postcard is also known to exist with the credit to " A. READ & Co. " instead of Grant.

---
---
This page was created on 10 July 2004
new image added 10 May 2005, and replaced 31 May 2016. Image of Read postcard added 31 May 2016, and replaced with improved image 31 May 2017. © Peter Daws - Stevengraph-Silks