BRADFORD EXHIBITION, 1904
(with no flags on flagpoles)
Reference Number:-
Godden Number:-
Sprake Number:-
Radley Number:-
gc 212
916a
No Postcards listed by Sprake
listed
---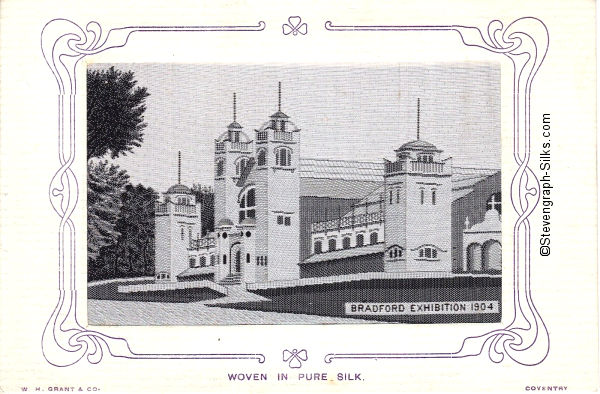 Words:

Woven on Silk:-

BRADFORD EXHIBITION, 1904

Printed at bottom of card:-

WOVEN IN PURE SILK

W. H. GRANT & Co.

COVENTRY

Size:

card:

cm long by cm deep

silk:
cm long by cm deep

Comments:

The view is of the Industrial Hall, and shows only the four flag poles, and no flags.

Grant also produced two other silk postcard with similar views of the same Industrial building.
The first has a different terracing and also has flags flying from the four flagpoles [gc 216 on this site].
The second is the same image as gc216, with the addition of a hot air balloon to the right of the Industrial building [gc 220 on this site].
---
---
This page was created on 16 February 2002
new image added 16 August 2009, and replaced with better quality image on 25 February 2016, and again on 17 May 2017 © Peter Daws - Stevengraph-Silks