Greater Cork Exhibition, 1903
(picture of exhibition building)
(no title)
Reference Number:-
Godden Number:-
Sprake Number:-
Radley Number:-
gc 200
967
No Postcards listed by Sprake
listed
---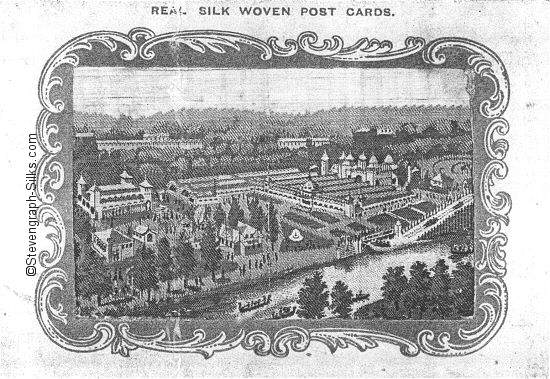 Words:

Printed at top of card:-

REAL SILK WOVEN POST CARDS.

Size:

card:

cm long by cm deep

silk:
cm long by cm deep

Comments:

This postcard does not have a makers name printed on the card. The printed border however unique to Grant, and is the earliest design.

There is no title either woven on the silk nor printed on the card. The exhibition buildings displayed however were those of the Cork Exhibition. The difficulty though is that the same buildings were used for the INTERNATIONAL EXHIBITION of 1902, and also for the GREATER CORK EXHIBITION of 1903. As the British postal services did not allow silk postcards to be sent in the post until 1903, it is probable this card was also produced in 1903.

This same postcard was issued as a souvenir at the exhibition, and this version is recorded as gc268: Souvenir of the Greater Cork Exhibition, 1903 (exhibition buildings).
---
---