Paris Exhibition, 1900
Palace of Education, Science & Arts
(and view of Champ de Mar)
no title
Reference Number:-
Godden Number:-
Sprake Number:-
Radley Number:-
gc 192
922
No Postcards listed by Sprake
listed
---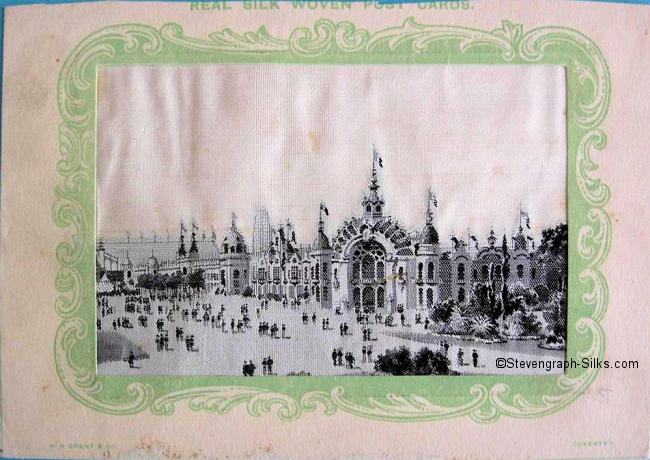 Words:

Printed at top of card:-

REAL SILK WOVEN POST CARDS.

Printed at bottom of card:-

W. H. GRANT & Co.

COVENTRY

Size:

card:

cm long by cm deep

silk:
cm long by cm deep

Comments:

This postcard does not have the title either woven on the silk, nor printed on the card.
However, from this World Fairs web site, there is a link to "Palais de l'Enseignement et du Matériel des sciences, lettres et arts", which has an excellent picture of the view above, all be it from the other direction.

Both Godden and Radley simply records this card with the title of "Champ de Mar", without identifying the building.
---
---
This page was created on 27 July 2016
the external link on this page was updated on 5 May 2023