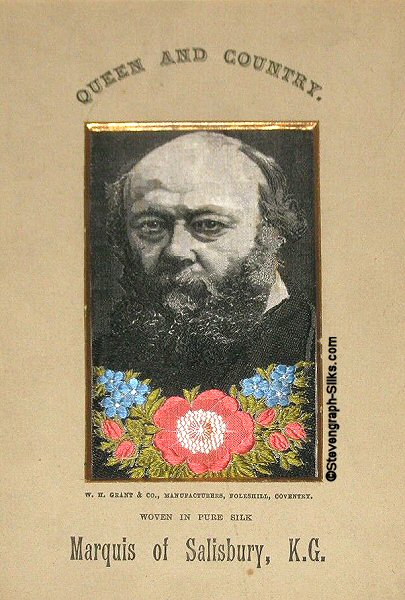 ---
Marquis of SALISBURY, K.G.
QUEEN AND COUNTRY
---
Reference Number:-
Godden Number:-
Sprake Number:-
go 268
not recorded
Sprake did not record any Grants
Words:

Printed at top of card:-
QUEEN AND COUNTRY.

Printed at bottom of card:-
W.H. GRANT & Co., MANUFACTURER, FOLESHILL, COVENTRY

WOVEN IN PURE SILK

Marquis of Salisbury, K.G.

Size:

Card-mount:

cm deep by cm wide

silk:
cm high by cm wide

Comments:

by Geoffrey Godden:
The Grant silk portrait above does not have the opening " THE " in the title, and is not recorded by Godden.

Other comments:
The version of this portrait above is identical to the one recorded as go269 on this site, other than the addition of the word " THE " at the start of the title.
Note too the Grant credit is now " & Co. ", making it a later weaving than go269.

On the reverse of this portrait is an advertising label stating that the silk was woven in the Chicago Exhibition, 1893.

---
---