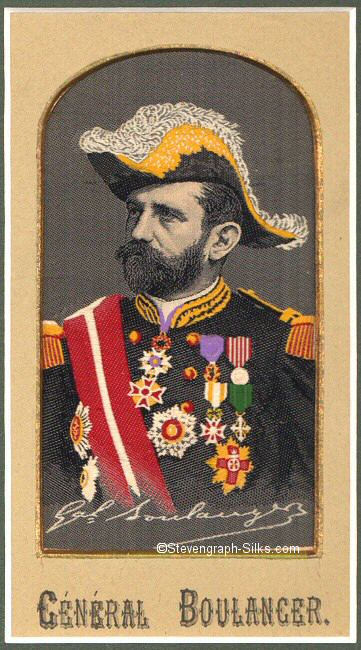 the image of this silk portrait kindly
donated by John Hartwig, USA
---
General Georges Boulanger
---
Reference Number:-
Sprake Number:-
Godden Number:-
so 112
STG104
90
Words:

Woven on silk:-

signature of Boulanger

Printed at bottom of card-mount:-
GÉNÉRAL BOULANGER.

Size:

Card-mount:

cm deep by cm wide

silk:
cm deep by cm wide

Comments:

by Sprake:

by Godden:
This French general was born at Rennes on 29 April 1837. He served in several French army stations and in the Franco-Prussian War. In the 1880s he turned to politics and introduced several military reforms. He was an extremely colourful figure. After several changes of fortune, he was returned for Paris in the elections held in January 1889; but the Minister of the Interior had taken out a warrant for his arrest on a treason charge and on 1 April he fled from Paris, journeying first to Brussels and then to London. General Boulanger died in September 1891.

Other comments:
A recorded postcard (sc60) has the official "WOVEN IN PURE SILK BY T. STEVENS, COVENTRY, LTD.", printed below the silk, and whilst being a postcard, nevertheless validates this portrait as a Stevengraph.
The colour image however, whilst it does not have the Stevens credit, has the identical silk, and the card mount is very typical of Stevens.
---
---
This page was created on 13 April 2004
colur image added 18 November 2012 © Peter Daws
Web site address: www.stevengraph-silks.com