by Sprake:
by Godden:
Otto Bismarck was born on 1 April 1815, the son of a retired captain in the Prussian army. He was to become a fearless politician, uniting the German states after defeating France in the Franco-Prussian War. He became Chancellor of the German Empire in 1871. But after working for the greater part of his life for his fatherland, Prince Bismarck was forced to resign from his office of Head of State in March 1890. He died on 28 July 1898.
The title PRINCE BISMARK was first listed in label 23+34a of 1888. The name on known titled examples is in the German spelling 'Prinz V. Bismarck', but the silk also occurs on untitled English-style card-mounts of type D2.
The subject appears on the Franz Drahne German back-label with the date 6 February 1888 added after the motto which is woven below the portrait. The date is that on which Bismarck made the quotation "Wir Deutschen fürchten Gott, aber sonst nichts in der Welt." ('We Germans fear God, but nothing else in the world.') - found woven in modified form under the portrait - when speaking in the Reichstag, arousing nationalistic sentiment in order to gain support for increasing the size of the army.
Other comments:
WARNING:
Please be advised that there are two versions of this portrait silk:
The Genuine Stevens silk has quotation marks at the start and end of the words on the flag.
It is known there is a second version of this silk portrait without these quotation marks - and it is believed this version is NOT a genuine Stevens.
An example of the false weaving is here: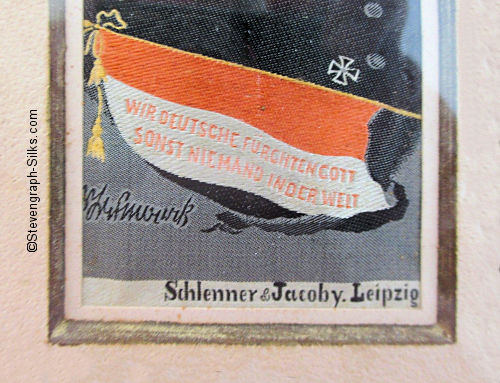 this version has another weavers name: Schlenner & Jacoby. Leipzig
But note this same weaver also issued genuine Stevens portrait silks - see image below with their name printed on the card matt!
---