Ye Ladye Godiva
(without the face of Peeping Tom in the top right corner,
but,
with poem on card mount)
Reference Number:-
Sprake Number:-
Godden Number:-
st 638
STG151a
38a
---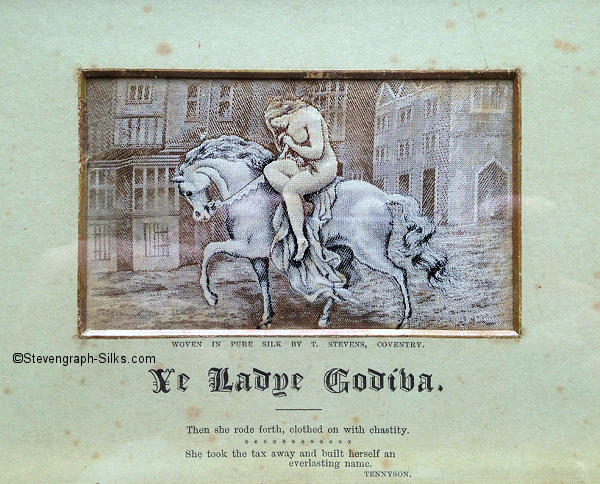 Words:

Woven on silk:-




Printed at bottom of card-mount:-

WOVEN IN PURE SILK BY T. STEVENS, COVENTRY.


Ye Ladye Godiva.

Then she rode forth, clothed on with chastity.
* * * * * * * * *
She took the tax away and built herself an

everlasting name.
TENNYSON.

Size:

Card-mount:

cm deep by cm wide

silk:
cm high by cm wide

Comments:

by Austin Sprake:

by Geoffrey Godden:


Other comments:
As with the more usual version of this picture, there is a three line poem printed on the card mount below the picture title of "YE LADYE GODIVA".
On the version above however, the face of Peeping Tom is missing from the window in the top right hand side, whilst it is present in the usual picture [see st628].
---
---
This page was created on 10 November 2014
new improved image added 20 October 2017 © Peter Daws
Web site address: www.stevengraph-silks.com