CALLED TO THE RESCUE
(with additional 'In Memoriam' wording)
Reference Number:-
Sprake Number:-
Godden Number:-
st 63
not recorded
recorded without number
---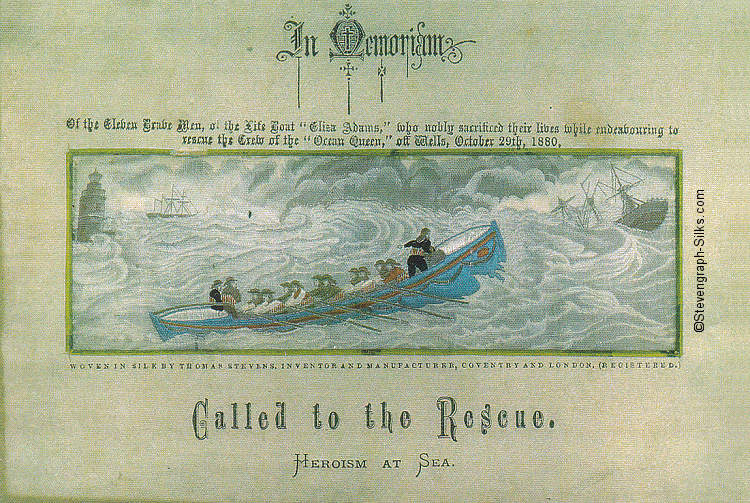 the image of this picture was copied from the Stevengraph Collectors Association newsletter
Words:

Printed at top of card-mount:-

In Memoriam

Of the Eleven Brave Men, of the Life Boat " Elisa Adams, " who nobly sacrificed their lives while endeavouring to
rescue the Crew of the " Ocean Queen, " off Wells, October 29th, 1880.



Woven on silk:-

Printed at bottom of card-mount:-

WOVEN IN SILK BY THOMAS STEVENS, INVENTOR AND MANUFACTURER, COVENTRY AND LONDON. (REGISTERED.)

Called to the Rescue.

HEROISM AT SEA.


Size:

card-mount:

cm deep by cm wide

silk:
cm high by cm wide

Comments:

by Austin Sprake:

Sprake does not record this version with over-printing.

by Geoffrey Godden:
Godden records this version with over-printing, but does not allocate it a number.

Godden adds:
This special wording may have been added only to examples sold locally at Wells or other near-by seaside towns, and such inscribed specimens could well have been sold at a premium to raise funds for the dependents of the lost men. It is highly probable that they were sold only for a brief period - perhaps for no more than a year after the event - for they are very rarely found today, although the basic subject is amongst those most commonly found.

Other comments:
The image above was copied from the Stevengraph Collectors Association newsletter, in which this silk picture appeared on several occations.
---
---