THE FIRST TOUCH
Reference Number:-
Sprake Number:-
Godden Number:-
st 216
STG173
24
---
TYPE E1 mount
the image of this silk was kindly donated by György Tóth, Hungary
same silk, with TYPE B mount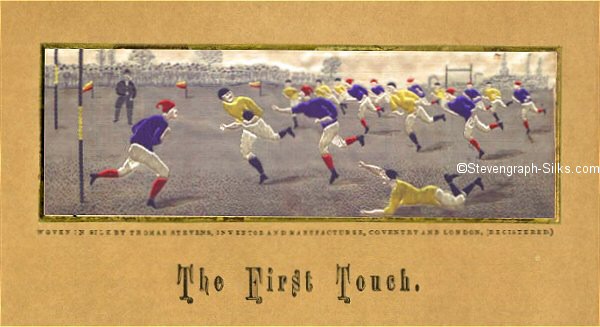 same silk, with TYPE C1 mount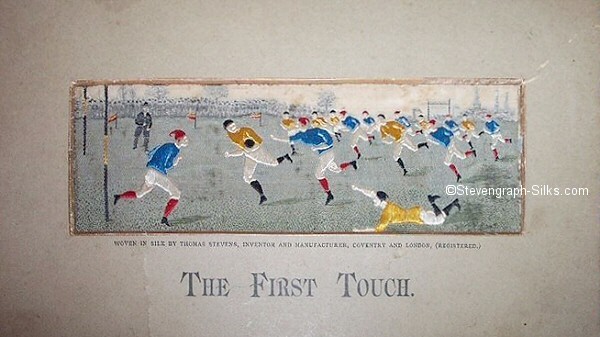 Words:

Woven on silk:-

Printed at bottom of card-mount:-

WOVEN IN SILK BY THOMAS STEVENS, INVENTOR AND MANUFACTURER, COVENTRY AND LONDON, (REGISTERED.)

The First Touch.

Size:

Card-mount:

12.4 cm deep by 19.0 cm wide

silk:
5.0 cm high by 14.6 cm wide

Comments:

by Austin Sprake:

An rugby match in progress with the spires of Coventry in the background.

by Geoffrey Godden:
This lively picture shows a rugby match with one player in possession of the 'pill' running for a 'touch'. It is amusing to note that the players all wear caps and breeches.
The title was first included on label 22 of about 1881 and continued into the twentieth century. It is noteworthy that the bracketed description always read A FOOTBALL MATCH, without reference to the fact that it is, in fact, a rugby football match. The subject is normally found on type B card-mounts [as above] or, more rarely, on type C mounts.

Other comments:
Words on card-mount say 'Registered' but this design was infact not registered.
Note too, that although Godden is correct that this title first appeared on label 22, the TYPE B silk whose image appears above, had a 20 title label on the reverse, (without THE FIRST TOUCH title of course).
---
---
This page was created on 15 July 2001
image of TYPE C1 added 11 February 2006; and the image of TYPE E1 added 3 January 2011 © Peter Daws
Web site address: www.stevengraph-silks.com