THE FIRST POINT
(including 'The Slipper')
Reference Number:-
Sprake Number:-
Godden Number:-
st 208
STG164
22a
---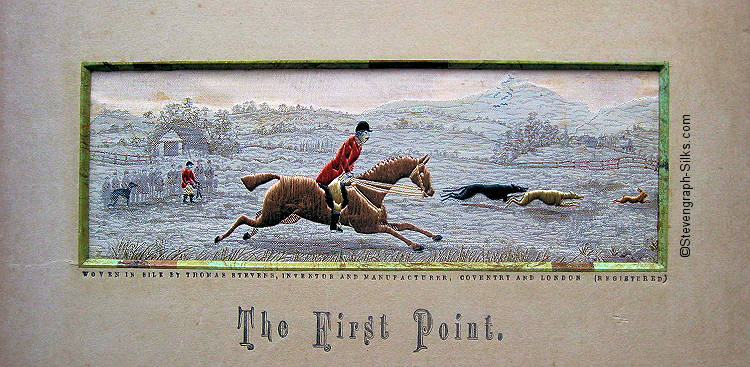 Words:

Woven on silk:-

Printed at bottom of card mount:-

WOVEN IN SILK BY THOMAS STEVENS, INVENTOR AND MANUFACTURER, COVENTRY AND LONDON (REGISTERED)

The First Point.

Size:

Card-mount:

cm deep by cm wide

silk:
cm high by cm wide

Comments:

by Austin Sprake:

This is the pair to "The Slip" and shows the judge, who follows the dogs, awarding the first point. The slipper is shown in red standing beside the beaters.

by Geoffrey Godden:
This subject occurs with two variations. The picture depicts a coursing scene with a mounted judge, in the centre, following two hounds chasing a hare, with a group of people standing to the left. The pair to this is THE SLIP [st 536 on this site].
THE FIRST POINT was registered on 22 December 1879 and was first listed on label 8. It is not found on labels after 23+31a, of about 1889, and most examples are to be found on type B card-mounts.
The later variety (22a) has the addition of a 'slipper', in riding habit, standing in front of the group of people to the left of the picture (as image above). This version is more common than the earlier one without this figure.

Other comments:
This design was registered on 22nd December 1879.
---
---
This page was created on 27 January 2002
New image added 11 May 2013. New improved image added 8 January 2018 © Peter Daws
Web site address: www.stevengraph-silks.com