Zu Hülfe Gerufen
German title for Stevens'
Called to the Rescue
German Title Reference Number:-
st 60-4
Stevens Normal Titled Reference Number:-
st 60
---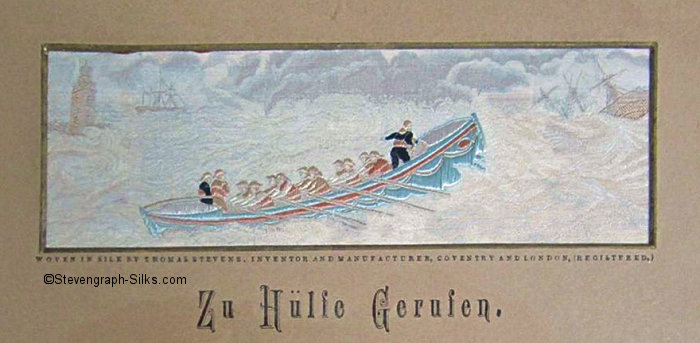 Words:

Woven on silk:-

Printed at bottom of card-mount:-
WOVEN IN SILK BY THOMAS STEVENS, INVENTOR AND MANUFACTURER, COVENTRY AND LONDON, (REGISTERED)

Zu Hülfe Gerufen.

Size:

Card-mount:

cm deep by cm wide

silk:
cm high by cm wide

Comments:

This title translates literally as Called to heal.

As can be seen, Stevens name is printed on the front, below the silk.
---
---