Columbus Landung in Amerika im Jahre 1493
German title for Stevens'
Landing of Columbus, Oct 12 1492
German Title Reference Number:-
st 400-2
Stevens Normal Titled Reference Number:-
st 400
---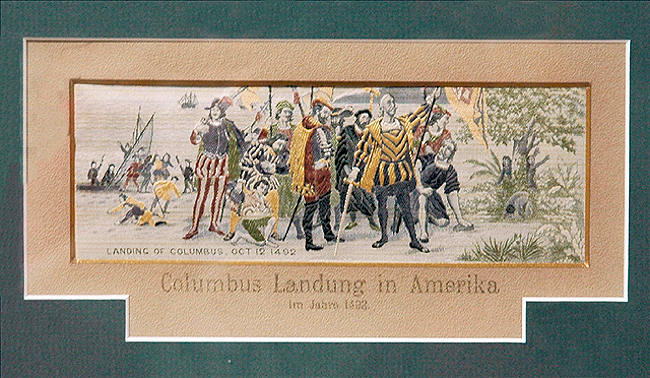 Words:

Woven on silk:-

LANDING OF COLUMBUS, OCT 12 1492

Printed at bottom of card-mount:-
Columbus Landung in Amerika
im Jahre 1493.


Size:

Card-mount:

cm deep by cm wide

silk:
cm high by cm wide

Comments:

This title translates literally as Columbus Landing in America in year 1493.

Stevens title for this silk however never actually recorded the date as 1493; it was always 1492.
---
---
This page was created on 22 October 2017
image replaced with improved version 9 April 2020 © Peter Daws
Web site address: www.stevengraph-silks.com