This silk is not listed by Godden
This silk is signed on the front: "Messrs Dalton-Barton Coventry 1862"
being the weaver and designer respectively.
The initials "RB" also appear just below the lowest leaf in the pattern.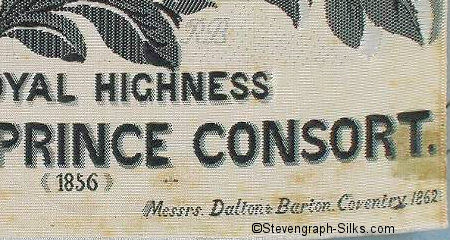 Prince Albert of Saxe-Coburg and Gotha (later the Prince Consort) was born on 26 August 1819, and died on 14 December 1861. He married Queen Victoria on 10 February 1840 and they had nine children.
On the political front however his marriage was not popular, and he was "awarded" the junior title of "HRH Prince Albert", until in June 1857, Victoria formally granted him the title "Prince Consort"
The silk above appears to have been initially issued without the 1856 date - this version of silk is very rare - which was added later.
As both silks however were issued in 1862, after Albert's death, it is interesting to speculate why the 1856 date was added.
In 1856, The Victoria Cross, Britain's highest military decoration for gallantry, was created by Royal warrant on 29 January, 1856; and The Crimean War formally came to an end on 1 April, 1856. I can find no other significance to Albert of that year.