Lord's Prayer
(words on panel)
Woven by R. S. Cox & Co., Coventry.
Words:

image of open bible


Our Father,
which art in heaven, Hal-
lowed be thy Name. Thy
kingdom come. Thy will
be done in earth, As it is
in heaven. Give us this
day our daily bread. And
forgive us our trespass-
es, As we forgive them
that trespass against us.
And lead us not into temp-
tation; But deliver us
from evil: For thine is
the kingdom, The power,
and the glory. For ever
and ever. AMEN.
R.S. COX & Co. 1862 COVENTRY
Same silks, with different colours: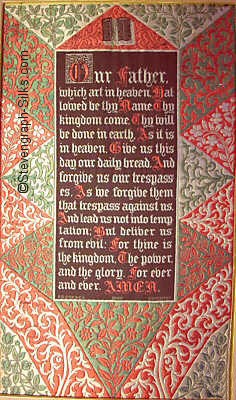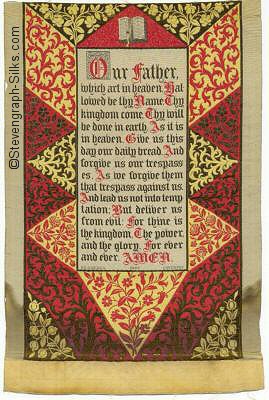 Size of Silk:

25.0 cm long by 16.0 cm wide

Alternative back-ground colours:

Comments:

This silk has not previously been recorded.

The credit: "R.S. COX & Co. COVENTRY" is woven on the front on this silk.
---
---
This page was created on 25 May 2008
additional images added 25 October 2011 © Peter Daws
Web site address: www.stevengraph-silks.com