His Majesty King Edward VII
(similar to portrait but with crown instead of lion, unicorn and coat of arms)
Reference Number:-
Godden Number:-
Sprake Number:-
Radley Number:-
gc 8
not listed
No Postcards listed by Sprake
listed - type B
---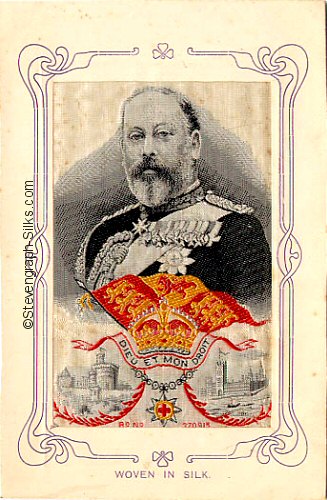 Words:

Woven on Silk:-

RD. No. 370915


Printed at bottom of card:-

WOVEN IN SILK

Size:

card:

cm long by cm deep

silk:
cm long by cm deep

Comments:

This silk has the registration number 370915 woven below the portrait of King Edward VII. This is an erroneous number, as there is no evidence this particular design was registered.

The actual silk associated with the registration number 370915 is the portrait of Her Majesty Queen Alexandra [go52 on this site].

This postcard does not have the usual Grant credit in the lower left corner, although as noted the image and registration number are both of Grant origin, as too is the destinctive border design.
---
---
This page was created on 9 December 2001
and new image on 22 April 2015 © Peter Daws
Web site address: www.stevengraph-silks.com