His Majesty King Edward VII
Souvenir of the Franco-British Exhibition, 1908
Reference Number:-
Godden Number:-
Sprake Number:-
Radley Number:-
gc 4-fb
not recorded
No Postcards listed by Sprake
not recorded
---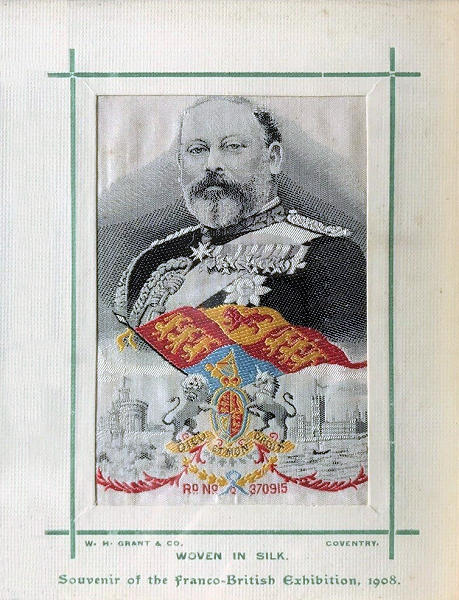 the image of this silk card was kindly donated by the son of Colton Wagner, USA
Words:

Woven on Silk:-

RD NO Q 370915

Printed at bottom of card:-

W. H. GRANT & Co.

COVENTRY.

WOVEN IN SILK.


Souvenir of the Franco-British Exhibition, 1908.

Size:

card:

cm long by cm deep

silk:
cm long by cm deep

Comments:

This image is exactly the same as the Grant portrait of King Edward VII [go168 on this site], except that it has the erroneous registration number 370915. The actual silk associated with this registration number is the portrait of Her Majesty Queen Alexandra [go52 on this site].
---
---
This page was created on 18 January 2015
image replaced with improved version 25 September 2019 © Peter Daws
Web site address: www.stevengraph-silks.com