Her Majesty Queen Alexandra
(with crown, Rd. no. 370915 & St. Georges Cross)
- silk only
Reference Number:-
Godden Number:-
Sprake Number:-
Radley Number:-
gc 22
not listed
No Postcards listed by Sprake
not listed
---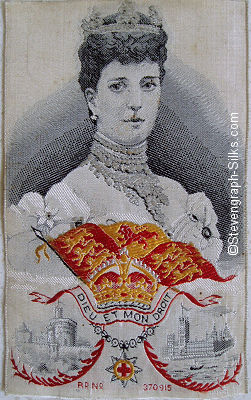 Words:

Woven on Silk:-

RD. No. 370915


Printed at bottom of card:-

Size:

card:

cm long by cm deep

silk:
cm long by cm deep

Comments:

This silk has the registration number 370915 woven below the portrait of the Queen.
The actual silk though associated with this registration number is a different portrait of Her Majesty Queen Alexandra [go52 on this site].

This silk is clearly un-mounted, although it is without doubt of Grant manufacture. It is a pair with gc8 - King Edward VII, which also, erroneously, has the same registration number.
---
---