Her Majesty Queen Alexandra
(sleeves cut off)
Reference Number:-
Godden Number:-
Sprake Number:-
Radley Number:-
gc 14
not recorded
No Postcards listed by Sprake
not recorded
---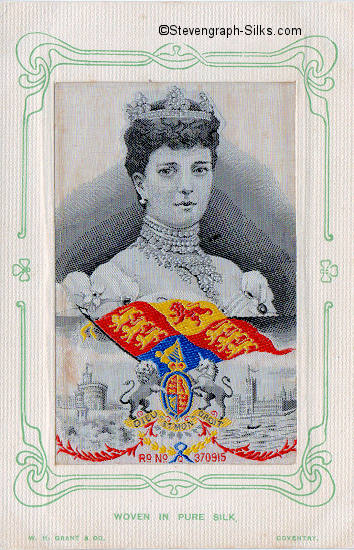 Words:

Woven on Silk:-

Rd. No. 370915

Printed at bottom of card:-

WOVEN IN PURE SILK

W. H. GRANT & Co.

COVENTRY

Size:

card:

cm long by cm deep

silk:
cm long by cm deep

Comments:

This image, apart from the reduced sleeves, is the same as the Grant portrait of Queen Alexandra [

go52 on this site

], although reduced in size of course.

In the image above, it will be noticed both sleeves of Her Majesty's dress are cut off abruptly, compared to the normal postcard version recorded as gc12 on this site.
---
---
This page was created on 9 December 2001
new, improved image added 26 February 2016 © Peter Daws
Web site address: www.stevengraph-silks.com