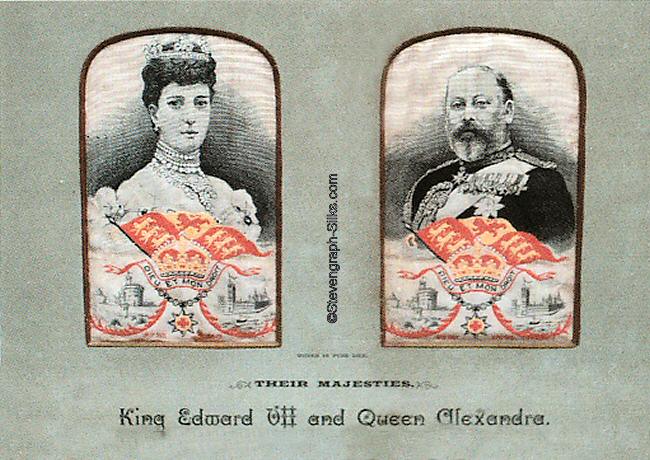 ---
Their Majesties
King Edward VII and Queen Alexandra
(with crown & medal)
---
Reference Number:-
Godden Number:-
Sprake Number:-
go 9
not listed
Sprake did not record any Grants
Words:

Woven on Silk:-


on image of Alexandra:
RD. No. 370915

on image of Edward VII:
RD. No. 370718

Printed at bottom of card:-

WOVEN IN PURE SILK.

THEIR MAJESTIES,

King Edward VII and Queen Alexandra.

Size:

Card-mount:

cm deep by cm wide

silk:
cm high by cm wide (each)

Comments:

by Geoffrey Godden:

Godden does not record this title.

Other comments:
There is a similar double silk picture to the one above (recorded as go8), although below the portraits are the lion and unicorn emblems, whilst on the version above is a crown and medal.

The individual silks comprising the double portraits above are go56 - Her Majesty Queen Alexandra (crown & medal) and go180 - His Majesty King Edward VII (crown & medal).
---
---