by Geoffrey Godden:
Godden does not record this title.
He does however record the same pair of silks mounted on a single card, but with the slightly different title of "Their Majestys King Edward VII and Queen Alexandra" [recorded as go12].
On Godden's version however, Edward is on the left, and Alexandra on the right, whilst on the version above, their positions are reversed, so that they now appear to be looking towards each other.
Other comments:
This rare titled silk comprises the individual silk portraits of go52 - Queen Alexandra and go168 - King Edward VII, mounted together on the same card mount.
There is a back label on this silk, detailing the catalogue number and title of all the other silk pictures, portraits and postcards then available. It should be noted however that neither of the individual silks of Alexandra and Edward themselves have back labels.
In the image above it will be noticed that each individual silk has a different woven registration number. There is below an almost identical silk, except the portrait of King Edward VII has the wrong number. The correct number is 370718, but the number actually woven is 370915, which is the registration number for the Queen Alexandra portrait.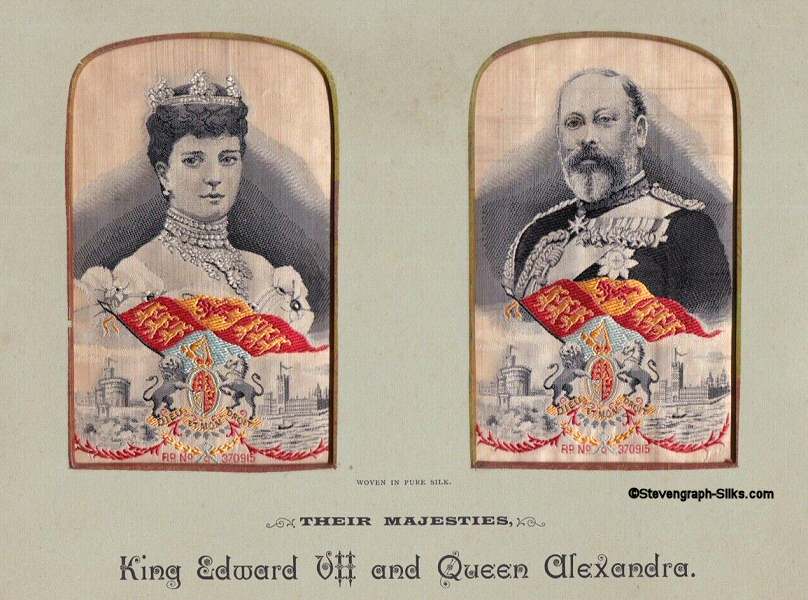 Portraits of Queen Alexandra and King Edward VII, but with wrong registration number for King Edward VII